Initial idea from Sina from Rheinstetten:
6 small uni-colour hand towels (approximately 29 cm x 45cm) with Kitenge border, Kitenge loop for hanging and a small (approx. 4×4 cm) symbol sown onto both sides – also from Kitenge material. Symbols should be different for each towel and could be star, moon, circle, triangle, cloud, tree – I am open for suggestions. Colours of the towels could be 2x blue, 2x green, 2x orange. The Kitenge material should be colourful but no purple or pink.
This project has been realized by myself, Lulu Oniang'o, in Kenya. Like all other projects on Urban Change Lab, it started with an idea or request from a customer in Europe. In this case our customer Sina from Rheinstetten requested the idea described above. I made an offer which Sina finally confirmed. Please scroll down to find out about the journey from the idea to the product.
In case you want to have your own idea realized just follow this link.
The story of the project:
Negotiation phase
Lulu Oniang'o
24 Jan 2017 2:27 am
I would recommend using readymade towels for this project since the terry cloth available in the market is not heavy enough for this kind of technique. Ready made handmade towels are approximately 40cm x 60cm so for each color, we can use one, cut it in half and create a pair. Finished towel size will be approximately 30cm x 40 Cm
Customer
24 Jan 2017 11:32 am
I think it is a good idea to use one larger towel for each colour and cut it into two halves. Please go ahead with that.
I would like to increase the number to 10 hand towels. Can you please forward a quotation for this increased number?
Regards,
Sina
Lulu Oniang'o
24 Jan 2017 2:15 pm
Thank you for your response. Kindly let me know how many towels to designate to each color.
Customer
25 Jan 2017 12:47 pm
True, I didn't mention the colours. It could be 2xblue and 2x orange. Thanks
Production phase
Lulu Oniang'o
30 Jan 2017 7:12 pm
I will send pictures of the colors and the fabric print options that I plan to work with later this week, before Friday. Once confirmed production should take no more than 4 business days.
Lulu Oniang'o
03 Feb 2017 5:38 am
Based on your color preferences, these are the prints I've managed to find; if there are any specific ones you'd like me to use kindly choose from the letters noted on the pictures. Thank you.
Customer
03 Feb 2017 10:52 pm
Nice ones! I love N, J, and D.
Thank you.
Lulu Oniang'o
04 Feb 2017 1:36 am
Noted, with thanks.
Lulu Oniang'o
12 Feb 2017 7:18 pm
Would you like the towels to have loops for hanging?
Customer
12 Feb 2017 10:01 pm
Yes please, I want loops. In the same material as the border.
I like the powerful colours of the towels.
Lulu Oniang'o
13 Feb 2017 7:58 am
Great! I'm glad to hear that.
Lulu Oniang'o
15 Feb 2017 8:20 am
We are finalizing the embroidery today and intend to put the symbol on the corner marked X I wanted to advise that since you requested a symbol on both sides I means that the bottom threads will appear on the other side of the fabric; so shall we put the alternative symbol at part marked W? Below the loop.
As far as the symbols are concerned for the additional towels kindly let me know if we can do an appliqué monogram letter in the matching kitenge fabric and if yes, which letter to use; I have attached a picture for reference from a different project
Customer
15 Feb 2017 12:39 pm
Thank you for the update. X as position of the symbols is fine. The reason why i wanted symbols on both sides was to hide the threads on the back side. If you think that the threads will not go well with the symbols then you can use the W, as suggested.
I didn't see a picture with letters from kitenge material. I think you posted two pictures with the symbol positions. I generally would prefer a symbol rather than a letter.
Lulu Oniang'o
16 Feb 2017 6:08 am
Ok we might repeat 2 or 3 symbols since the towels are 10. No hearts right?
Sorry the picture failed to upload. We use matching color threads to the towel for the back so the outline will be seen but it will be a tidy outline.
Customer
17 Feb 2017 6:20 pm
Nice!
Correct, no hearts.
Lulu Oniang'o
21 Feb 2017 12:13 pm
Items are ready
Customer
21 Feb 2017 3:17 pm
Thank you!
The final product: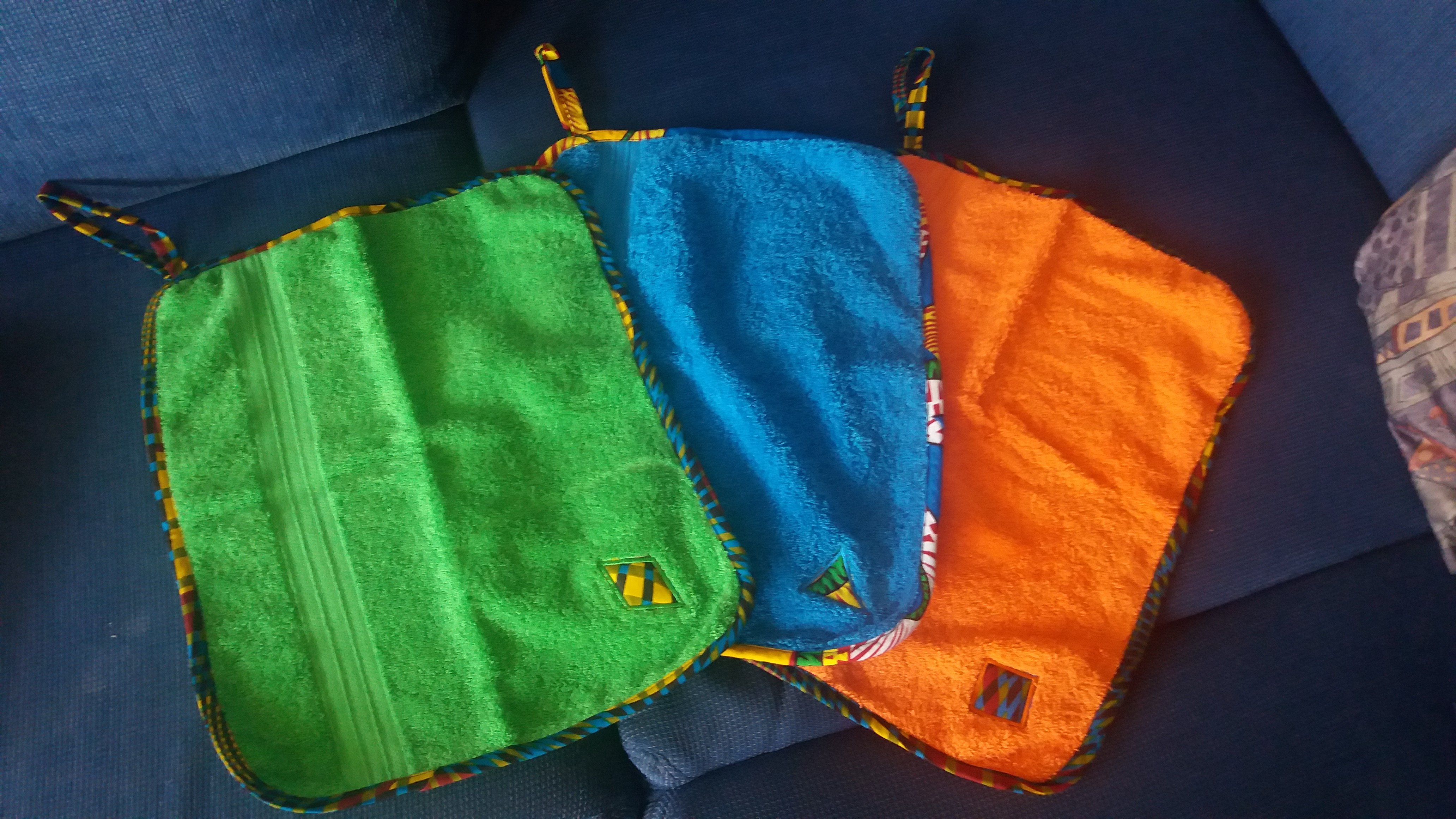 Paid to craftsmen: 75,80 €
Customer acquisition & handling 15,16 €
Shipping: (up to 2 kg) 15,98 €
Customs: 0,00 €
VAT for Germany: 20,32 €
Total price: 127,26 €
Material: Terry cloth/new towel and kitenge
Do you want something similar?
Do you want your own idea realized?
Dieser Beitrag ist auch verfügbar auf: Deutsch (German)