Initial idea from Jochen from Berlin:
I would like to have a pair of cufflinks in the shape of Africa. As regards the material, I'm flexible and would appreciate suggestions.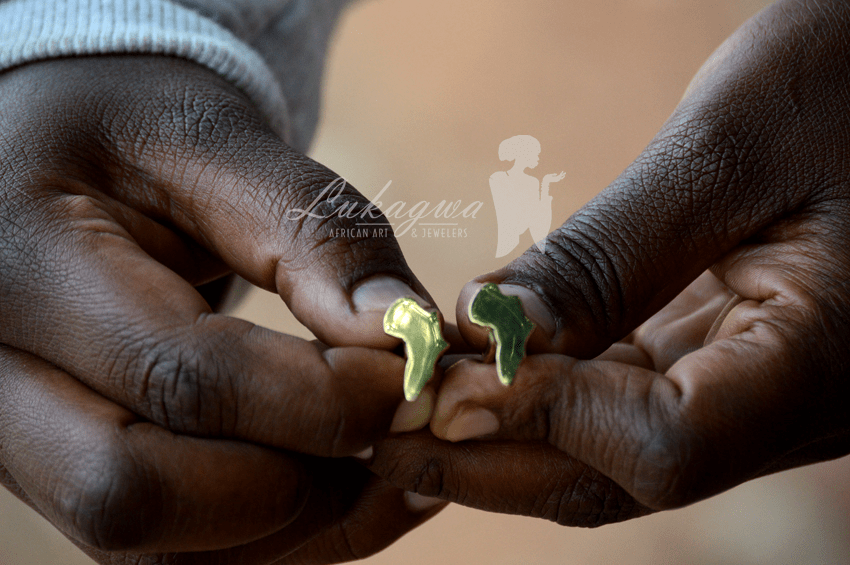 This project has been realized by myself, Lucille Nyikuri, in Kenya. Like all other projects on Urban Change Lab, it started with an idea or request from a customer in Europe. In this case our customer Jochen from Berlin requested the idea described above. I made an offer which Jochen finally confirmed. Please scroll down to find out about the journey from the idea to the product.
In case you want to have your own idea realized just follow this link.
The story of the project:
Negotiation phase
Lucille Nyikuri
19 Sep 2016 2:38 pm
Hi these are simply prototypes of cuff links i had made earlier in the year.
Translator MB
04 Oct 2016 5:49 pm
Hello Lucille, thank you for the examples and your offer. How exactly would you realise the form of the African continent? I feel that the concept of the shaped wire may not be fine enough, so that one would recognise that it's Africa. I'm also worried that the fastener may slip through. What materials did you use in the examples? Do you have any more ideas?
Lucille Nyikuri
04 Oct 2016 6:24 pm
For the shape of the map of Africa I will either use cast brass or cut it out of a sheet of Brass.I will pick that which will give me the best finish.When we use Brass the fastener will be soldered to the map of Africa in the same style as the normal cufflink.
Production phase
Lucille Nyikuri
15 Nov 2016 4:43 pm
i will begin the realization on the 22.11.2016 i will keep u updated as we progress
Lucille Nyikuri
25 Nov 2016 11:27 am
hi i will send you an image or video of the work in progress next week thanks
Lucille Nyikuri
08 Dec 2016 4:00 pm
The brass pendant of Africa is 1.6cm in length.Is the image okay or I take a clearer one?
Translator MB
14 Dec 2016 8:19 pm
Is the ratio of length to width correct? In the picture, it looks like the shape of Africa turned out too long or too narrow?
Lucille Nyikuri
15 Dec 2016 2:09 pm
Hi the length is 1.6cm and width 1.1 cm.The photo i have attached is the final product
Translator VB
20 Dec 2016 2:13 pm
Hello Lucille, thank you for the new photos. Unfortunately, it still seems to me that the dimensions you chose for the map of Africa are not correct and therefore the map is not immediately recognizable as Africa.
According to Wikipedia
Africa is approximately square. However if you still believe that one would immediately recognize that it is Africa, then please send a photo with the direct front view of the cufflinks (maybe a short video from several directions):
From Wikipedia:
"From the most northerly point, Ras ben Sakka in Tunisia, at 37 ° 21 'N, to the most southerly point, Cape Agulhas in South Africa, 34 ° 51'15" S, is a distance of 8,000 km (5,000 mi ), From Cap-Vert, 17 ° 31'13 "W, the westernmost point, to Ras Hafun in Somalia, 51 ° 27'52" E, the most easterly projection, is a distance of 7,400 km Mi). "
Lucille Nyikuri
03 Jan 2017 5:37 am
I am working on another sample
Lucille Nyikuri
04 Jan 2017 6:56 pm
You will have another sample next week by Friday
Lucille Nyikuri
17 Jan 2017 2:10 pm
i have shared the mould of the second sample.We have proceeded to create the same in Brass with a slight adjustment in the measurements.
Translator JB
21 Jan 2017 12:57 pm
Hello Lucille, could you please send a few sharper photos of the form from different perspectives?
Lucille Nyikuri
07 Feb 2017 6:24 pm
I hope your well.I will share with you images of the complete cuff links in different perspectives.You will have these images before Friday.Thanks for your patience
Translator MB
07 Feb 2017 8:29 pm
Hallo Lucille, thanks very much for the info. I look forward to seeing the photos!
Lucille Nyikuri
13 Feb 2017 8:34 pm
Hi Jochen
The work is progressing well.You will have some good images of the cuff links tomorrow.
Thanks for your patience
Lucille Nyikuri
14 Feb 2017 4:32 pm
Hi Jochen
I have attached images of the cuff links in different perspectives.Please have a look and give me your feedback.
Thanks
Translator VB
19 Feb 2017 7:04 pm
Hi Lucille, they look very chic. Thank you very much
Lucille Nyikuri
20 Feb 2017 12:03 pm
I am glad you like them.When would you like to have them?
thanks
Translator VB
24 Feb 2017 8:16 am
I would like to have them ASAP ?
Lucille Nyikuri
16 Mar 2017 10:04 am
Hi Jochen
I hope your well.Sorry there was some imperfections with the cufflinks which we are correcting.
Lucille Nyikuri
23 Mar 2017 12:27 pm
hi Jochen
We have corrected the imperfections,i will make arrangements on how the item will reach you.
Thanks for your patience.
Lucille Nyikuri
29 Mar 2017 3:22 pm
Hi Jochen
I hope your well.Thanks for your patience.The cuff links are ready i will deliver them tomorrow.
Lucille Nyikuri
30 Mar 2017 12:30 pm
Hi Jochen
I have delivered the cuff links to Damaris.They are packaged in a banana fibre box.
I hope you will like them as much as I do.
Thanks
The final product:
Paid to craftsmen: 60,45 €
Customer acquisition & handling 12,09 €
Shipping: (small items) 10,00 €
Customs: 0,00 €
VAT for Germany: 15,68 €
Total price: 98,22 €
Material: brass
Do you want something similar?
Do you want your own idea realized?
Dieser Beitrag ist auch verfügbar auf: Deutsch (German)